In this blog post, I am going to share seventeen (17) SEO checklist that will help improve ranking for a specific webpage, targeting a specific keyword.
Before we go any further. I want to make sure you have read through the previous blog post "Google SEO Ranking Factors 2020".
Let's get started…
Why On page SEO Checklist
On-page SEO is an essential SERPs ranking factor. I think it's the most vital communication medium between Google bot and your website.
With On-page SEO, webmasters can tell Google bot what the website page is about. whether, it's a blog page, white paper, or a checklist, etc.
On-page SEO requires a good understanding of Google's guidelines for effective SEO and optimize content around the requirements.
Checklists for an effective On-page SEO
Include your target keyword at the beginning of your title tag.
Use short URL and include the target keyword/focus keyword.
Include at least 1 multimedia (Image, video, infographic, or audio) in each blog post or pages.
Include at least 2 outbound links to related authority sites (popular blogs, news sites, and .edu and .gov resources) in every piece of content that you publish. Source Backlinko
Include the blog/page focus keyword in the first 100 words. Yoast SEO recommends adding in the starting sentence of the first paragraph.
Make sure the focus keyword/target keyword is highlighted with H1 tag.
Use the Google PageSpeed Insights tool to figure out your site's loading speed. WordPress plugins WP Rocket and WP Smush It can help speed things up.
Add modifiers like "2020″, "best", "guide", and "review" to help you rank for long-tail versions of your target keyword.
Make sure your social sharing buttons are front and center on blog posts and articles.
Write at least 1500 words for content that you're trying to rank for competitive keywords.
Include internal links at the top of your article.
Include 1-2 LSI keywords in every article.
Write long, engaging content that keeps people reading. Put a lot of effort into making your first paragraph interesting and compelling.
Add 2-3 internal links to older articles when you publish a new one.
Include your keyword once in an H2 or H3 subheading in the middle or towards the end of the page.
Tag your images with keyword-rich alt text. Do not forget the description and Alt text.
Make sure high-priority pages are no more than 3 clicks away from your homepage.
 Create an XML SiteMap that tells search engines where to find important content on your website 
Understanding Google Search Console Errors & Meanings.
Conduct keyword research to identify the "Focus Keyword" or "Target Keyword".
Keeping in mind the keyword is part of the larger content strategy, the Focus Keyword targets one keyword/theme and has settings/characteristics "Target Audience Persona", "Intent", "reaches customers at a certain stage of buying Cycles and Journeys"
Focus Keyword Used in Post/Page URL
As per URL SEO best practice, Include the Focus keyword or Add your target keyword to your page's URL. 
For Example => https://www.example.com/my-keyword or example.com/my-keyword-guide 
Google uses the terms in your URL to understand what your page is all about. It's one of the many on-page SEO best practices to help SEO optimize. 
Top of Page - Focus Keyword
Use your keyword once at the top of your page ideally in the first 50-100 words and add it appropriately fitting in H2 headings. See the screenshot from the Rankmath SEO tool that explains How Focus Keyword should be sprinkled across the page. 
Search engines put more weight on terms that appear in prominent places on your page like at the top, Headings and Page title.
Page Title - Focus Keyword
Similar to Adding the Focus Keyword Top page section, Including the Focus Keyword in the Page Title, Google uses it as a factor to determine topic and context. In addition,
Page Title
.H1 & H2
Top Page Section
& other sections, see image below. 
From a Google SEO point of view, your title tag is the most important place to include your keyword.
Adding Focus Keyword in H headings emphasizes to Google that your page is focused on that keyword and topic. H tags aren't a huge deal for rankings. But every little bit helps.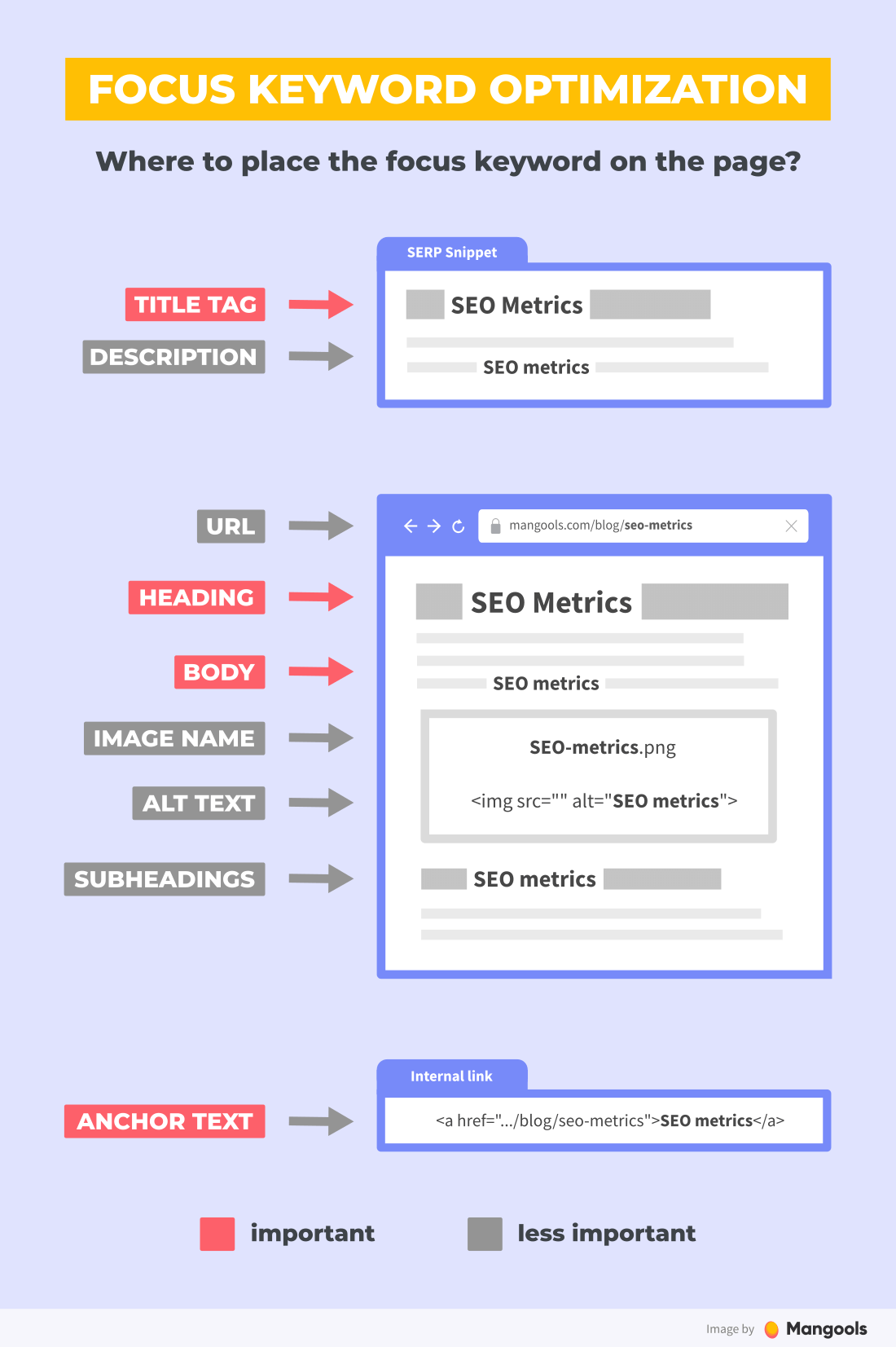 Image Name & Alt Text - Focus Keyword
Google uses images to understand the content of your page. And descriptive file names and alt text helps them understand what your page is all about.
Link Pages Through Internal Links
There are two types of links Internal and External. On Page SEO includes creating links that connects the page/post with other site pages.  For example, this blog post is Titled, On Page SEO Checklist. Beginning this post, I mentioned Internal and External. IF I have a page for External Links also called Backlinks, it will have 100% made sense to link. In the case, if the reader wants to know about external, does not need to leave the website and click the link to read the blog/page relevant external link.
We can see adding the link helps with user experience. The users not leaving the website to do a Google Search. Similarly, It also benefits Google Bots and Crawlers understand the data when get multiple relevant signals. The more signals pertaining certain topic, the easier it is for Google Bot to determine the Keyword Intent and topic.
Another way to think is the topic this blog is Internal Link, the how, why and what it is? The different types, benefits and tips. Let's say, I add link to a car dealership page. Do you think it has any value or Do you think this might be confusing Google Bot, one section talking internal links and suddenly Car Dealership. Two different topics. Google Bot has to now user other procedures and guidelines to help identify the right and original topic for this blog.
Internal Link Best Practices
Identify orphaned pages and link them to other thematically relevant subpages
Remove links that point to faulty pages (status code 404) or pages that are no longer accessible (status code 500).
A blog posts with 600 words is suggested to have at least 3-4 internal links.
Similarly, 2-3 backlinks from relevant sites in 600 words blog post or page.
All blog posts and pages are part of the overall big picture content strategy. The content strategy should be designed in a way where have posts or pages for words that are repeated multiple times or have highest mention frequency. In that case, you can have an internal linking system that connects one page with all the different sections. Helping improve crawlability and discoverability. If Google crawls a link that relates to the page, Google likely crawl the page since its connected with the other page that Google intends to Crawl.
After each post or page that is published, Naturally, the content should have words or topics allow create internal links connecting different sections of the website.
Add simple and clear Anchor text all links whether internal or external.
Internal links can help Google find, crawl and index more pages on your site (and help them rank higher in the search results).